Other Properties
Mountain Lake
Mountain Lake Uranium Deposit
Discovered in 1976, the property area was the subject of intense exploration during the 1970s and 1980's, when Acquitaine Company of Canada and Esso Resources Canada completed 190 drill holes totaling approximately 22,000 m on the project area. Pitchstone Exploration Ltd. (Pitchstone) and Triex Minerals Corp. (Triex) carried out additional exploration during the period 2005-2008, including the completion of 30 drill holes in the area, 15 of which were located within or immediately adjacent to the Mountain Lake deposit itself.
Uranium mineralization at Mountain Lake is hosted within sandstone of the mid-Proterozoic Dismal Lakes Group within the Hornby Bay Basin. The deposit is a shallow-dipping (5-10 degrees) tabular zone of strata-bound mineralization that extends from the top of the bedrock (10-30 metres below surface) down to approximately 180 metres below surface at its deepest point. Overall the mineralization covers an area measuring 1,300 metres long and up to 320 metres wide. The thickness ranges from 1.0 to 6.5 metres. High grade mineralization is locally present, with drill intersections returning up to 5.19% U3O8 over 0.9 metres.
Historical Mineral Resource
The property contains a historical inferred mineral resource estimate of 8.2 million pounds U3O8 with an average grade of 0.23% U3O8 contained in 1.6 million tonnes of mineralization. The estimate was reported in the technical report entitled "Mountain Lake Property, Nunavut" prepared for Triex and dated February 15, 2005. This resource is a historical estimate and a qualified person has not done sufficient work to classify the historical estimate as current mineral resources. As a result, the historical estimate is not being treated as a current mineral resource. However, the Company believes that the historical estimate is relevant and reliable, as it was prepared by a Qualified Person (as defined in National Instrument 43-101 – Standards of Disclosure for Mineral Projects) with significant experience on the project, using methods that were standard in the industry. In order to upgrade or verify the historical estimate as current mineral resources, the Company anticipates that it will need to incorporate the drilling data collected by Triex and Pitchstone in 2006-2008. The historical resource uses the "inferred mineral resource" category set out in section 1.2 of National Instrument 43-101. There are no more recent estimates available to the Company.
The historical estimate was prepared with the polygonal method using only intervals greater than 0.1% U3O8 with a vertical thickness of at least 1.0 metre. Polygon sides were determined by drawing lines perpendicular to, and one half the distance to each adjacent drill hole. Estimated uranium was then obtained by multiplying the polygon areas by their thickness, a specific gravity of 2.5, and the grade of the drill hole interval. The mineral resource was classified as inferred.
Mountain Lake Property Claims and Deposit Outline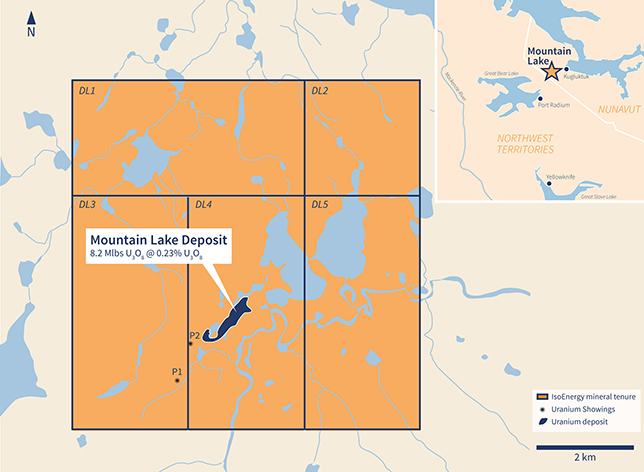 Collins Bay Extension Property
The 8,580ha Collins Bay Extension property is located along the inferred northeastern extension of the Collins Bay trend, less than seven km northeast of Rabbit Lake. Currently under care and maintenance since 2016, Rabbit Lake has produced over 200 million pounds of uranium concentrates since 1975, much of which was from basement hosted mineralization at the Eagle Point deposits. The Eagle point deposits are characterized by their remarkable depth extent to at least 900m below the sub-Athabasca unconformity.
In addition to the prolific Collins Bay trend, the Collins Bay Extension property also covers the extension of another fertile conductive trend – Tent-Seal, host to the Tamarack uranium deposit on Cameco Corp.'s Dawn Lake property, and several occurrences of basement hosted uranium mineralization on Orano Canada's McClean Lake property and UEX's Hidden Bay property. The two trends merge on the Collins Bay Extension property in a complicated zone of conductors that suggests a high degree of structural complexity – a perfect setting for basement hosted uranium mineralization. The total strike length of conductive stratigraphy related to the two trends on the Collins Bay Extension property is over 16km.
Located just beyond the edge of the Athabasca sandstone, the Collins Bay Extension property is underlain solely by basement rocks (mostly prospective metasediments of the basal Wollaston group) and there is no sandstone cover. Despite the presence of two prospective trends, there are very few historical core drill holes on the property according to the Saskatchewan government database.
North Thorburn
Complementing the Thorburn Lake property, North Thorburn is located 1 kilometre northeast of Thorburn Lake and 12 kilometres northeast of the Cigar Lake mine along the same geological trend. With the Cigar Lake mine haul road running along the western edge of the property, North Thorburn has excellent infrastructure and can be easily accessed year round. The property is almost unexplored, with no previous drilling completed within the current claim boundary. Given the relatively shallow unconformity depth (250-300 metres), close proximity to several uranium mines and deposits and similar geophysical setting as Cigar Lake, several target areas require follow-up exploration.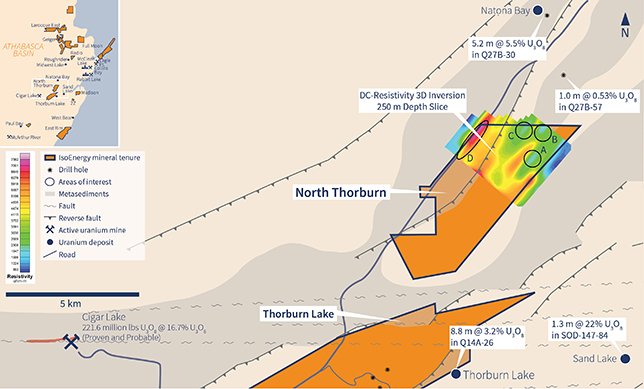 North Thorburn Property Geology and Key Features
IsoEnergy completed a total of 50 line-kilometres of DC-Resistivity geophysical surveying in October and November, 2016. The survey was designed to locate drill targets (resistivity low anomalies) along interpreted fault structures at the north end of the property, where previous geophysical surveys had indicated the presence of prospective metasedimentary rock types. Four zones of low resistivity are evident in the 3D inversion models in the western and northeast parts of the survey area. Each of these coincides with interpreted structures from previous geophysical surveys and each represents multiple drill targets.
Carlson Creek
The Carlson Creek property is located 19 kilometres northeast of the world's largest high grade uranium mine, McArthur River. Total mineral reserves at McArthur River are 336.5 million lbs of U3O8 at a grade of 10.94% U3O8. Carlson Creek is also contiguous with UEX's Christie Lake project which hosts the Paul Bay and Ken Pen basement hosted uranium deposits. Recent drilling by UEX in 2016 includes an intersection of 9.3% U3O8 over 9.8 metres in drill hole CB-092.
Only six drill holes have ever been completed on Carlson Creek. These were drilled by Titan Uranium in 2007 and 2008 and confirmed the presence of graphitic metasediments on the property. Additional exploration is warranted in this highly prospective portion of the Athabasca Basin.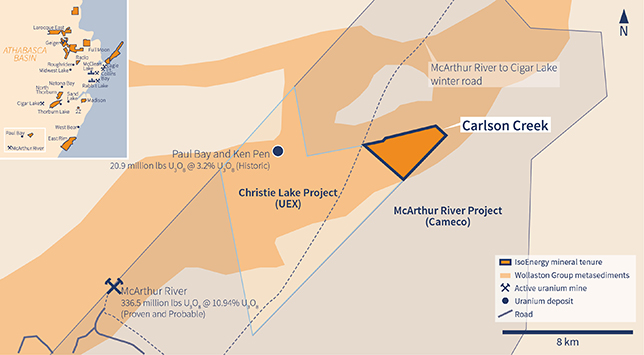 Carlson Creek Property Geology and Key Features
2Z
12 kilometres southeast of the Sand Lake uranium deposit (intersections of up to 1.3m @ 22% U3O8) historic drilling on the 2Z Lake property has intersected up to 5200 ppm U?O? (0.61% U3O8) immediately below the unconformity. The property is characterized by thin (100 metres) sandstone cover, and all drill holes except one were terminated immediately below the unconformity, meaning the basement-hosted uranium potential is untested. All drilling was done in the 1970s with the exception of one hole in 1987, which was the only one to be drilled past 120 metres.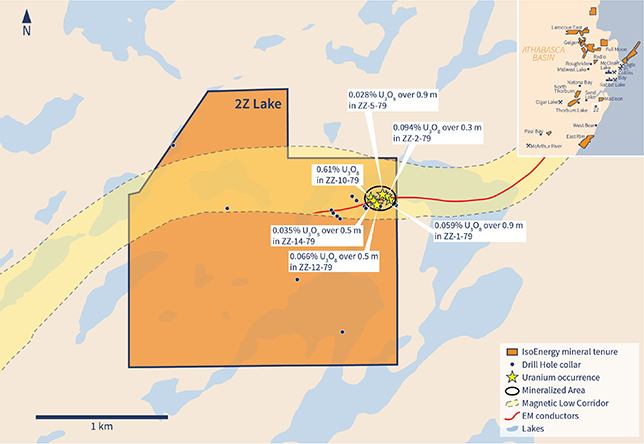 2Z Lake Property Location, Conductors and Drill Holes
Madison
Located 14 kilometres east from the Sand Lake uranium deposit (1.3 metres @ 22% U3O8) and only 6.5 kilometres west of highway 905, the Madison property has seen 11 historic drill holes by Eldorado, Denison, and Cameco, with only one occurring after 1989. Sandstone cover is very thin at Madison at only 60 metres. Historic drilling has returned intersections of up to 217 ppm U3O8.
IsoEnergy recently completed a 20 line-kilometre DC-Resistivity survey at Madison. Results have been compiled with an airborne electromagnetic (VTEM) survey flown by NexGen in 2014. Interpretation of the combined datasets has resulted in several drill targets, many of which are discrete VTEM anomalies coincident with DC-Resistivity lows and/or magnetic lineaments.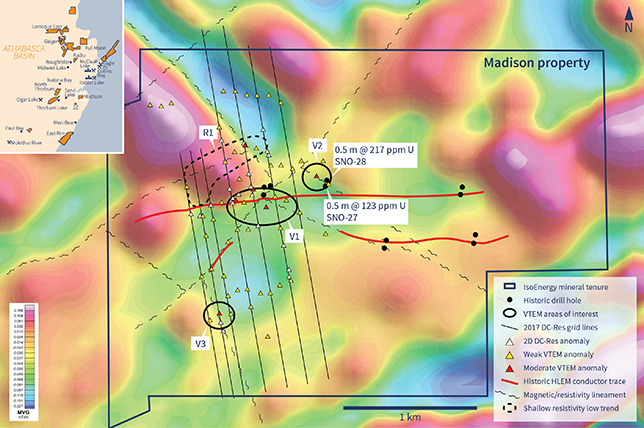 Madison Property Conductors and Drill Holes
Edge Property
The 4,218ha Edge property is located nine km northeast of the Company's Larocque East property. It covers a large area characterized by low magnetic susceptibility caused by prospective Wollaston group metasedimentary basement rocks beneath a thin cover of Athabasca sandstone. The property is very close to the basin edge, with only 40m of Athabasca sandstone recorded in the only historical drill hole completed on the property. That drill hole intersected 10m of semi-massive and massive pyrite mineralization in the basement rocks.
Email Signup
Sign up for the latest news and updates