Thorburn Lake
IsoEnergy holds a 100%-interest in the Thorburn Lake property located just 7 kilometers east of Cameco's Cigar Lake mine and 300 metres north of Cameco's Thorburn Lake uranium occurrence.
Prior to IsoEnergy, previous owners completed only 14 drill holes on the Thorburn Lake property. Four were drilled in 2008 and identified uranium enrichment at the Athabasca Group-basement unconformity, with uranium analyses as high as 90 ppm over 5.1 metres. A follow-up program was completed in 2011. Of the ten holes drilled in 2011, four had significant uranium anomalies associated with alteration envelopes at the unconformity. Drill hole TBN-11-05a intersected visible pitchblende veins and disseminations. This drill hole yielded a best result of 3610 ppm U (0.43% U3O8) over 0.6 metres, in the basement directly below the sub-Athabasca unconformity. The interval occurs within a larger weakly mineralized zone with a grade of 0.019% U3O8 over 8.0 metres straddling the unconformity.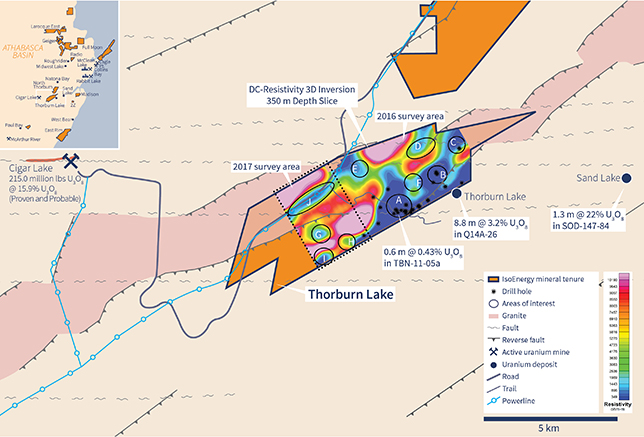 Thorburn Lake Geology, Drill Holes and Key Features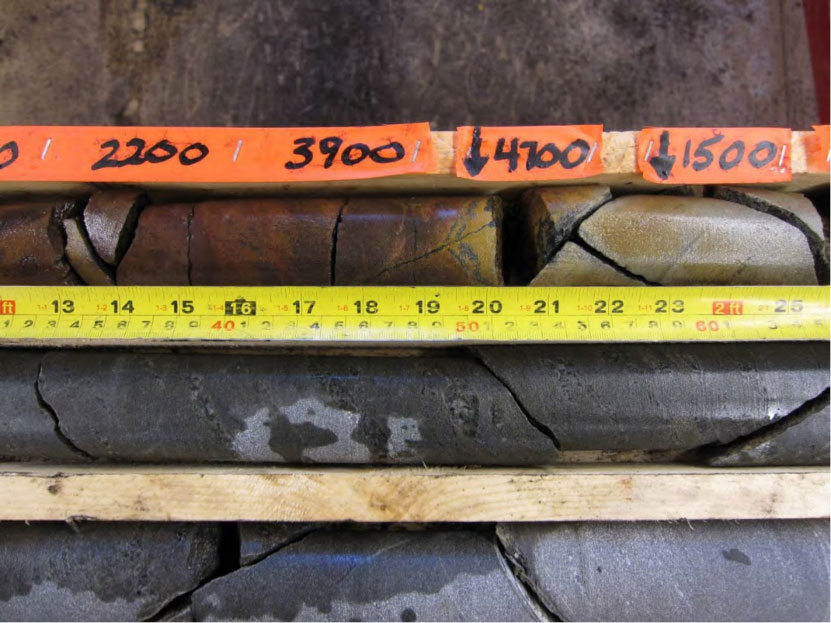 Uranium mineralization intersected in TBN-11-05a, Thorburn Lake Property
IsoEnergy completed a total of 7,100 metres of drilling in 16 drill holes at Thorburn Lake in two programs in 2016 and 2017. The focus of the programs was to evaluate extensions of the uranium mineralization intersected in 2011, especially along-strike to the northeast beneath lake ice. Depth to the sub-Athabasca unconformity at Thorburn Lake ranges from 290 to 350 metres.
Drilling in 2016 and 2017 extended favourable structure and graphitic units to the northeast and continued to intersect sporadic uranium mineralization and alteration. Additional drilling in this area is warranted.
Additionally, a program of DC-resistivity surveying was completed in 2017 to extend coverage onto the relatively unexplored southwest half of the property. Future work on the Thorburn Lake property will include follow up drilling in the area of the 2016 and 2017 drilling campaigns, plus drilling of geophysical targets remaining from the 2016 and 2017 DC-resistivity surveys.
Exploration at Thorburn Lake is at a very early stage and the property is highly prospective for both unconformity and basement hosted uranium mineralization.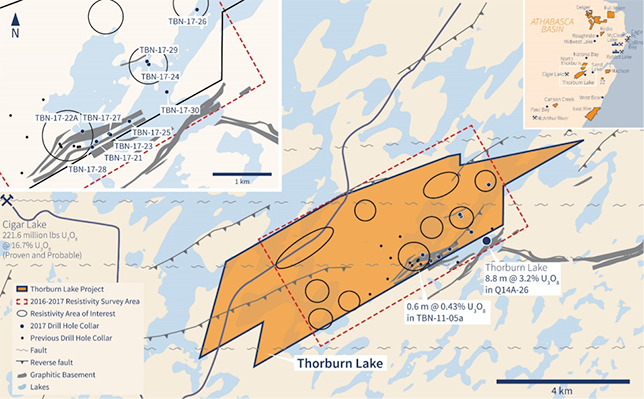 Drill Hole Locations at Thorburn Lake
The Cigar Lake mine haul road passes through the Thorburn Lake property. Total mineral reserves at Cigar Lake are 221.6 million lbs of U3O8 at 16.7% U3O8 (www.cameco.ca). The Thorburn Lake property also sits within 300 metres of the Thorburn Lake uranium occurrence where mineralized intersections including 3.2% U3O8 over 8.8 metres have been reported.
Email Signup
Sign up for the latest news and updates